Elbowspace
HTML Form Builder
Secure Web Form Hosting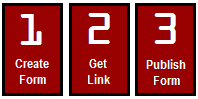 Elbowspace.com
is an html form builder that can assist you in creating a web form in just a few minutes. The web form you create is instantly ready to receive information, securely, that can be viewed and/or downloaded at your convenience.
No programming or HTML knowledge is required
*We can also convert any existing html form to work with our system.
We have the lowest subscription prices (starting at $3.50/month) along with the most features (including external form converter, self-totaling fields, calculating fields, conditional fields). All plans include SSL security as a standard feature.
Learn More
Today's Featured Service
What else is new?
Self-Grading Quiz, will allow you to turn any web form into a multiple choice quiz that provides the user real-time results feedback. Radio buttons will be used to ask the questions while a space for the answer key is provided in the same section. This new function allows for the quick & easy development & administration of quizes for educational professionals.
© Copyright 2007-2014, ElbowSpace, Inc.