Elbowspace
HTML Form Builder
Secure Web Form Hosting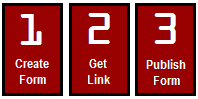 Elbowspace.com
is an html form builder that can assist you in creating a web form in just a few minutes. The web form you create is instantly ready to receive information, securely, that can be viewed and/or downloaded at your convenience.
No programming or HTML knowledge is required
*We can also convert any existing html form to work with our system.
We have the lowest subscription prices (starting at $3.50/month) along with the most features (including external form converter, self-totaling fields, calculating fields, conditional fields). All plans include SSL security as a standard feature.
Learn More
Today's Featured Service
What else is new?
Form Colors - can be easily modified using our state-of-the-art drag & drop technology. There is a list of about 300 fixed color choices that you can drag to up to 10 color zones on the form. Color zones include both backgrounds & text foregrounds. If one of the 300 fixed color choices do not satisfy your needs, you can create a custom color by entering it`s hex number, then dragging it to the form area.
© Copyright 2007-2014, ElbowSpace, Inc.