Elbowspace
HTML Form Builder
Secure Web Form Hosting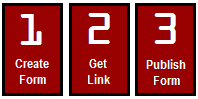 Elbowspace.com
is an html form builder that can assist you in creating a web form in just a few minutes. The web form you create is instantly ready to receive information, securely, that can be viewed and/or downloaded at your convenience.
No programming or HTML knowledge is required
*We can also convert any existing html form to work with our system.
We have the lowest subscription prices (starting at $3.50/month) along with the most features (including external form converter, self-totaling fields, calculating fields, conditional fields). All plans include SSL security as a standard feature.
Learn More
Today's Featured Service
What else is new?
Spreadsheet Style Calculations -. Total up any set of fields on your form; take a percentage of another; and divide a third by 5, are some examples of the powerful uses of our spreadsheet style calculations. Enter these calculation formulas in virtually the same manner as some popular spreadsheet programs. The answer to the formula must reside in a text field; however, the operands can be text fields, radio buttons, drop down boxes & check boxes.
© Copyright 2007-2014, ElbowSpace, Inc.